Nick Kapica
Urbanist, designer, kitesurfer


My Forum Pitch
Pathways through the impossible with design thinking: How do we think big and dream up ideas for a better future city?
How do we identify and navigate the hurdles to shift impossible dreams into a feasible ideas?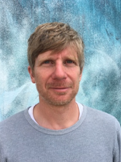 Urbanist, Designer and Kitesurfer, born in London, moved to Wellington nine years ago. Before that he spent 19 years in Berlin where for a while he lived in a squatted art commune, ran a techno club, had a family and established the design studio SV Associates. Here in Wellington Nick was part of the team that redefined what design education is at Massey University, and since 2017 he has been Design Lead at Wellington City Council. In his spare time he is Co-chair of the The Wellington Chapter of Society of Experiential Graphic Designers (SEGD), founder of the Off Grid conference, and a keen kitesurfer.