Kim Workman
Justice reform advocate


My Forum Pitch
Imagine a city that not only knows how to say sorry, it knows what to say (or do) after that.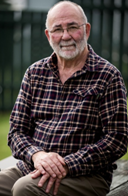 Kim Workman (of Ngati Kahungunu and Rangitaane descent) is a retired public servant, whose career spans roles in the Police , the Office of the Ombudsman, State Services Commission, Department of Maori Affairs, and Ministry of Health. He was Head of the Prison Service from 1989 – 1993. He is a graduate of Massey University, and has completed post-graduate study at the University of Southern California, and Stanford University.
Kim was appointed to the position of National Director, Prison Fellowship in 2000, and retired from that position in 2008. In 2005, Kim was the joint recipient (with Jackie Katounas) of the International Prize for Restorative Justice. In 2006 Kim joined with Major Campbell Roberts of the Salvation Army, to launch the "Rethinking Crime and Punishment" Strategy, and in 2011, formed Justspeak an organisation for young people committed to justice and social reform.
Kim was made a Companion of the Queens Service Order in 2007. In the same year he was appointed as a Senior Associate to the Institute of Policy Studies, Victoria University, and an Adjunct Research Fellow at the Institute of Criminology, in 2012.
In 2012, Kim was a finalist in the New Zealander of the Year Award
He was the 2015 JD Stout Fellow at the Stout Research Centre for New Zealand Studies, to write a book on "The Criminal Justice System, the State and Maori, from 1985 to the Present."
He is currently a member of the Police Expert Advisory Panel, to oversee the Iwi Justice Panel process.
Kim was awarded the honorary degree of Doctor of Literature by the Victoria University Council in 2016, and the same degree by the Massey University Council in 2017.
In 2018, Kim was awarded Senior New Zealander of the Year
Kim has six children, 10 grandchildren and three great-grandchildren. His current interests include listening and playing jazz, and (unsuccessfully) learning to play classical piano.