Hon Grant Robertson

Social justice builder


My Forum Pitch
A city that is the opposite of loneliness, where we are connected to each other, our environment, and our future.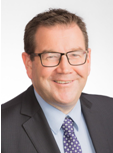 MP for Wellington Central
Grant Robertson was born in Palmerston North and lived in Hastings before his family settled in Dunedin.
He studied politics at Otago, graduating with a Bachelor of Arts with Honours in 1995. His involvement in the campaign against user-pays education led him to become President of the Otago University Students Association and, later, Co-President of the New Zealand University Students Association.
Grant joined the Ministry of Foreign Affairs and Trade in 1997 where he managed the New Zealand Overseas Aid Programme to Samoa. He was also posted to the United Nations in New York, working on environment and development issues.
On his return to New Zealand he became an advisor to then-Minister of Environment Marian Hobbs and then to former Prime Minister Helen Clark.
Grant's belief in social justice and a desire to see every New Zealander able to achieve their potential led him to politics, and he has been the Member of Parliament for Wellington Central since November 2008.
In Opposition, his Labour spokesperson roles included Finance, Employment, Skills & Training, Economic Development, Tertiary Education, State Services, Health, and Arts, Culture & Heritage.
After the 2017 election, Grant was appointed Minister of Finance, Minister for Sport and Recreation, and Association Minister for Arts, Culture and Heritage.
He met his partner Alf in 1998 playing rugby and their family now includes several grandchildren. In 2009 they were joined in a civil union.